Dancers and Choreographers
---
Assess your desire and ability to be a dancer: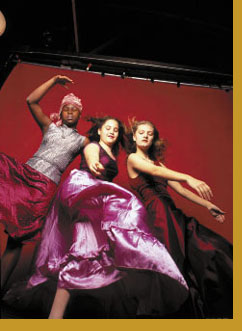 Questions for dancers:
Are you regularly enrolled in dance classes?
Do you enjoy your classes?
What books about dance have you read?
What performances have you seen? (There was important dance before "Chicago." There were important dancers before Fosse. Throughout your career you will hear references to famous performers and choreographers, you need to know about these men and women and their work.)
Are you familiar with famous films featuring dance scenes such as "Saturday Night Fever", "Seven Brides for Seven Brothers", "Singing in the Rain", "An American in Paris", etc.?
Are you familiar with famous dancers and choreographers of the stage and film, and with their work? Agnes De Mille? Gene Kelly, Fred Astaire/Ginger Rogers? Cyd Charisse, Martha Graham,George Balentyne? The Champions? Bob Fosse, Rudolf Nureyev? Jerome Robbins, Michael Kidd?
How musical are you? What kind of music do you listen to?
What is your teacher's background?
What public performances have you done?
Have you auditioned for, or been accepted into any full time summer programs, or other college programs?
Have you received positive comments about your work from professionals in the field?
Are you highly motivated about pursuing a career in dance? That is, are you prepared to make the sacrifices necessary to achieve this goal?
Is there another field of study that appeals to you? (If so, dance possibly should not be your full-time study program.
---
College and Dance Majors - Things to consider
Your age. Age matters more for dancers for those in other performing arts. Some students work hard to finish high school in three years and then enter the college or conservatory dance program of choice. (However, Ann Miller remained a huge star into her eighties.)
If you stay in high school for four years, be sure you are regularly taking dance classes and performing during that time.
Some schools allow Early Admission to students who finish high school after three years. This is not the same as Early Decision, or Early Action policies for regular university admissions.

Early admission refers to schools that will admit you after your third year in high school. I generally don't recommend this, but if your passion is a to be dancer, you may want to think about this and discuss it with your parents.
Choosing your teachers:
Where was the teacher trained?
Has the teacher danced professionally?
Does the teacher have contacts for placement after you have completed your studies?
Does the teacher give corrections, and explain things well?
Have you researched accepted teaching methods? For instance, does the teacher require stretching after you have warmed up?
What discussions does the teacher initiate about music?
Does the instructor focus on learning routines for dance performances, or are the methods and techniques taught regularly?

---

Preparing for the College Applications Process?

Events in your process:

Start a Brag Book (notebook) the earlier the better, with notes about your activities, awards, honors, achievements.

Make a chart in your notebook to enter information specific to your dance background: as choreography, stagecraft, acting, etc., and topics such as kinds of dance you have been taught, methods, movement techniques, music.

Application Photographs
Dance Auditions

Practice Auditions (Practice ahead of time, practice a lot, and practice everything - how you enter the room, introduce yourself and your piece, and what you need to tell the pianist)
Regional Auditions
Possibility of Videos/DVDs instead of a live audition

---

Tips for the Auditions:

If you have been injured, mention it.
After your performance, wait until you are dismissed.
Dress appropriately.
Look a bit over the judge's heads, not right at them.
Stick to the guidelines given to you for your solo.
Pick a solo that you love to dance, rather than one you think the judges might like to see.
---
A Controversy for Dancers
Many conservatories and dance companies enforce weight policies for young dances. Better dance educators consider this emphasis on thinness a risky policy for both the physiology of young dancers, and the natural body-development of mid-adolescence.
Before committing to a school, ask about weight policies.
---
Dance Company vs. College?
Companies that Admit Young Dancers
Everytime you are invited to audition, take advantage of the offer. Even if you are not planning to attend that school or join that company, the experience is invaluable.
Companies that admit young dancers include:
Cleveland Ballet
Detroit Ballet Company
New York City Ballet
Pennsylvania Ballet
Pittsburg Ballet
San Francisco Ballet

Please note: Most modern dancers today have college degrees. For ballet dancers, if you have no dance comp[any offers at high school graduation time, then consider college. Better yet, try to graduate from high school in three years, and then complete college in three years.

Degree Granting Conservatory or Ballet Company School?

Search Colleges by Interests Acting, Drama, Theater

---

Ballet Company Schools

School of American Ballet

American Repertory Ballet
Art of Classical Ballet
Atlanta School
Alvin Ailey School
Central School of Ballet - London
Cleveland Ballet School
Dance Theater of Harlem
Boston Ballet School
Graham School of Ballet
Joffrey
Merce Cunningham School
Mill Ballet School
Nikolais School
Pacific Northwest Ballet School
Pennsylvania Ballet School
Princeton Ballet
San Francisco Ballet School

Links to Ballet Schools Links to Colleges with dance majors, and categories of dance majors

Search on Google for Dance Programs.
---
Questions to Ask:
What is a typical schedule for a first year student?
What is your casting policy?
How many dance performances do you do in a semester?
Do you produce concerts and workshops?
What kind of technique do you teach? Repertory?
What kinds of dance do you teach?
How do you run your auditions?
How are auditions evaluated?
Do you allow a focus on ballet OR modern, or do students have to study both?
Do you offer job placement or employment help?
Do you have information I can see about where your graduates are employed?
Do you offer resources for students' housing?
What is your male/female ratio?
How many undergrads/grad students do you have?
Do you require a video or CD along with other portfolio items?
Do you provide guidelines for the performance portfolios?
Who are your choreographers?
What is your curriculum for dancers?
---
Your Checklist for College Admissions
Request catalogs and register on the websites
Request applications and photocopy those of schools that interest you
Study websites
Start Brag Book for impressions of schools, conversations with faculty, auditions, repertoire requirements, deadlines
Have social security card/number
Register for PSATs
Meet with guidance counselor or college advisor
Assess need for independent consultant
Enroll for ongoing dance classes and discuss high school dance activities with counselor
Note standardized test schedule in College notebook and planner. Register for standardized exams at appropriate times (SAT I, SAT II, ACT, TOEFL...)
Enroll in summer programs offered for dancers either privately or in collegiate summer programs
Arrange for private tutoring in SAT/ACT preparation
Participate in volunteer and extracurricular activities
Keep track of all activities in Brag Book
Visit colleges of interest, spoke with faculty related to dance
Schedule college interviews
Write thank-you notes to interviewers
Attend college fairs
Investigate financial aid and scholarships
Keep list in my brag book of awards, honors, performances, any news articles
Ask specific teachers for recommendations
Write thank-you notes to teachers who write recommendations
Prepare for dancer's audition
Read carefully all instructions regarding the audition
Chosen my audition material (remember to dance what you love.)
Arrange for my accompanist, if necessary
Submit any videotapes, CDs, or DVDs requested of you
Prepare a resume
Fill out applications
Draft essays
Work on and complete applications process
Admissions
Application Essays
College applications
Everything About Financial Aid
Scholarships
College Acceptance
Request transcripts be sent to schools of interest
Keep up my grades, and take courses required by my schools of interests
Respond to any colleges offering me admissions
---
Return to the top of Dancers Page

See Performing Arts Main Page Acting: drama, theater Musical theater: Check out the lights of Broadway Music Majors: Return to Everything about college home page